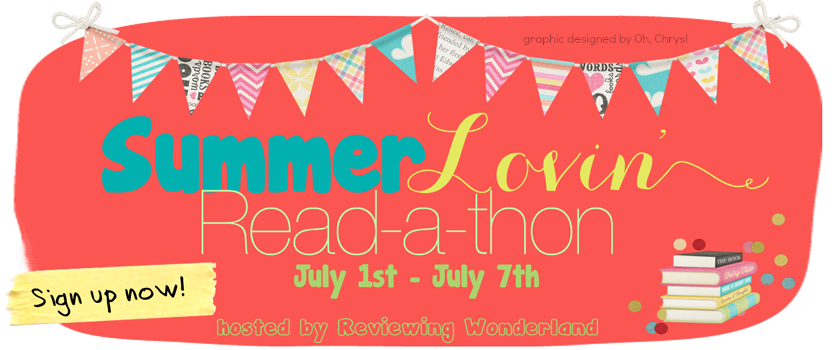 Summer Lovin' Bingo
The lovely ladies hosting the Summer Lovin' Read-A-Thon this week have challenged us to a game of Summer Lovin' Bingo. The goal? A black out. And I did it!
Read a book: The Convenient Groom by Denise Hunter is the first book I finished this week!
Do a challenge post & link up: Teaser Tidbits, Page 99 Test, & Cover Title Scramble
Send a tweet to @_RaTCentral_ : Here's the first one I sent. :)
Post a picture of a book rainbow: Harder to find books in each color than expected, but I finally did it!
Tell what book you're reading: Well ... listening to, but I'm counting it! :)
Do a participation post & link up: Class Orientation, You're the One that I Want, Look at Me, I'm Sandra Dee!, Tears on My Pillow, Whole Lotta Shakin' Goin' On, Hound Dogs & We Go Together (will be posted later today)
Participate in one of the Greased Lightning twitter rounds: This was fun! Here's one of the rounds I participated in.
Write down the names of all of the fabulous authors featured this week: KA Tucker, Jennifer S. Doktorski, Sarah Fine, S.T. Bende, Ardash Vartparonian, Jessica Gunhammer, Karla Nellenbach were all featured through the read-a-thon this week.
Follow Read-A-Thon Central: Following on Twitter now!
Read something: I read The Mother-Daughter Book Club by Heather Vogel Frederick. Fun YA book featuring one of my all-time faves—Little Women!
Eat something sweet: Brownies and ice cream anyone?
Take a picture of something you love: Since Hubs isn't a fan of having his picture tweeted out, I had to go down the list a bit. I do love the new decorations on our mantel, though. :)
Free space: Thanks!
Tell us who your favorite author is and why: I chose Jody Hedlund ... love her!
Tweet a picture of the book you are reading right now: I was reading Mary Poppins at the time.
Visit and follow Reviewing Wonderland: Done
Visit and follow Love.Life.Read: Done
Visit and follow Read.Sleep.Repeat: Done
Visit and follow Tumbling Books: Done
Visit and follow Oh Chrys!: Done
Visit and follow Shelf Addiction: Done
Visit and follow Effortlessly Reading: Done
Read another book: Lonestar Secrets by Colleen Coble was fantastic!
Do something outside: It's been super rainy this week, so does running errands count? I was in and out. :)
Post a picture of your favorite snack/drink to have when reading: I mentioned my slight addiction to Dr. Pepper earlier this week ...
BINGO!!!