I hope that you know how much I love the ministry of Compassion International. I've written a little about
my experience
with the organization and hope to be able to share more with you soon.
A few times a year a team of bloggers travel to see firsthand the ministry of Compassion and then post daily so the rest of us can learn about Compassion and "meet" some of the families who have been impacted by the ministry.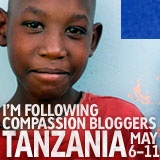 And on May 6-11 (right now!) a team of 8 is in Tanzania and
blogging daily
! If you're not familiar with Compassion, this is a great opportunity to learn about the ministry. If you know more about Compassion, this will be more of an "insider's" look at the work they're doing around the world—and specifically in Tanzania.
Here's a pre-trip post from Shaun Groves to give you some more specifics about where they will be and the Development Centers (projects) they'll be visiting.
You can follow along on the
Compassion website
or
Twitter
.
Will you join me in praying for this incredible team?